Oh wow.  That's all I can say about this one.  We had this as an appetizer in a barbecue restaurant.  I think this would make a great addition to any party.    My son loved the crispy sweet bacon that topped the eggs so much that he tried to order it without the eggs…yes…he asked the waitress if the chef could give him a bowl of candied bacon!  So, I decided to come home and re-create the dish.  Here's the result! 
Prepare your pan. Don't forget the foil or the cooking spray!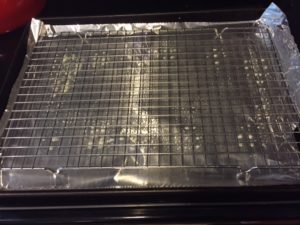 Lay your bacon on the tray…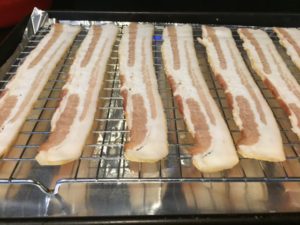 Mix up the magic concoction!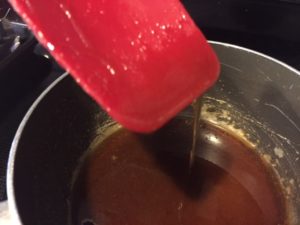 "Paint" it on…good for you artsy craftsy people!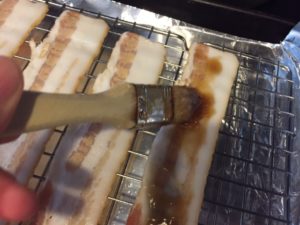 Ready for the oven…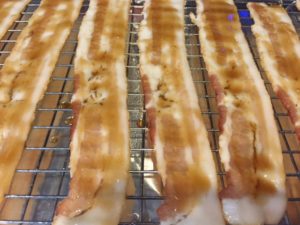 Time lapse…voila!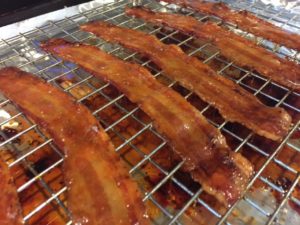 Crumble for topping…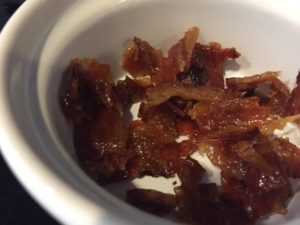 Make your deviled eggs…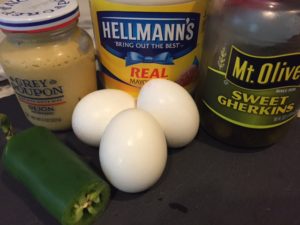 I use a pastry blender to mash the yolks…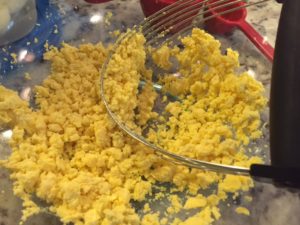 Time to put it all together!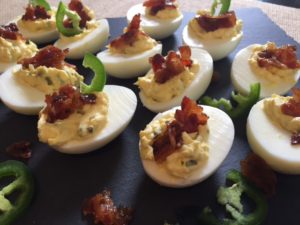 Dig in. Enjoy. Repeat.
Ingredients
8 slices smoky bacon ( I use a Cherrywood smoked, but apple smoked is great!)
1/3 cup brown sugar
2 T maple syrup
splash of bourbon (optional)
6 boiled eggs
dijon mustard
mayonnaise
sweet pickles
fresh jalapeno
Directions
Everyone probably has their own recipe for deviled eggs.  I simply put them in a pot of cold water.  Bring to a boil.  Boil for 5 minutes.  Remove from heat, and cover.  Let stand 15 minutes.  Run under cold water and peel.  I mix in some mayo, a little dijon mustard and finely chopped sweet pickles.
Now for the bacon.  Preheat the oven to 375.  I line a jelly roll pan with foil and place a cooling rack on top of that.  I spray the rack with cooking spray.  Do not skip either of these steps or you will have a huge sticky mess to clean up.  Lay the bacon slices in a single layer on the rack.  In a saucepan on medium heat, combine the maple syrup, sugar and bourbon if using.  Gently warm while stirring to dissolve sugar and combine the mixture.  If it seems to thick, add more syrup.  You want it to be thin enough to "paint" on with a pastry brush but not so thin it just runs off.  Then use the brush to apply the warm concoction on the strips of bacon.  Place in oven for about 12 minutes until it starts to crisp up and sizzle.  Turn over the slices and apply more of the sauce.  Back in the oven to cook the other side for about 7-8 minutes.  Then you can crank the oven to broil and get a good crisp on each side.  Broil maybe 1-2 minutes per side, turning and applying more sauce with each turn.  This part goes really quickly…don't walk away.  Watch it closely so it doesn't burn!  After it cools, it will be like crispy, shiny fruit leathers that you can crumble on top of your eggs and serve up with a slice of fresh jalapeno if you like!  If you're worried about the jalapenos being too spicy, you can leave them off.  But, if you take the seeds out, they really aren't spicy, and they just add a nice fresh contrast and bright flavor against the rich smoky sweetness of the bacon and creamy egg mixture.  You'll have extra slices of bacon, but that is on purpose in my house since my hubby and son devour them.  No one ever complains about extra bacon!