We eat a lot of Chinese, Japanese and Thai food.  I love all the different flavors, complex layers and, of course, the spice!  I'm a spice girl...LOL!  But seriously it is a really quick and simple weeknight meal.  Because of our job, we get home a little later in the evening.  I don't have the time or energy to start a meal from scratch at that time of night.  So, I am able to prep a stir fry before work and have it waiting for me to throw into a pan...and in minutes, dinner is ready!  
I chop my favorite veggies...usually onion, green or red bell pepper, carrots, celery and sometimes mushrooms (if I remember to buy them).  I also throw in some water chestnuts during the cooking process.  The veggies just go in a bag until I'm ready to cook.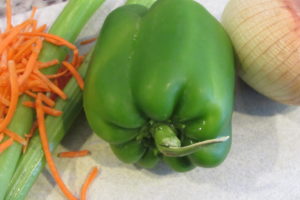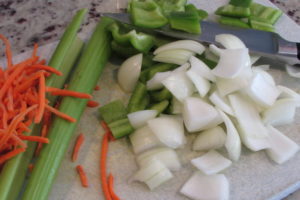 Then I slice up the chicken into bite size pieces.  At this point it can also go into a bag in its naked state...or you can add a simple marinade.  Toss in your favorite flavors.  Mine are teriyaki, szechuan sauce, soy sauce, toasted sesame oil, canola oil, and a splash of rice wine vinegar.  I don't measure...just eyeball it to your liking.  Go easy on the soy and sesame oil since they are quite bold and can take over quickly!  And, I smash a garlic clove and throw that in.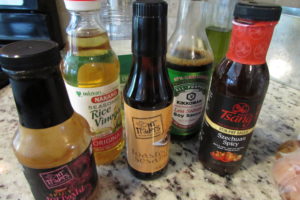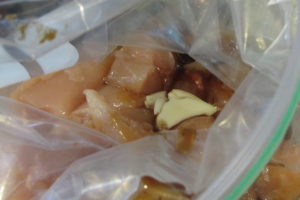 You can also grate some fresh ginger if you like.  I let that marinate until dinner.  Then, when I get ready to cook it, I heat some canola oil in a pan and dump the veggies in.  Cook, stirring frequently, for a few minutes.  But don't go too far.  I like the veggies to stay a little crisp.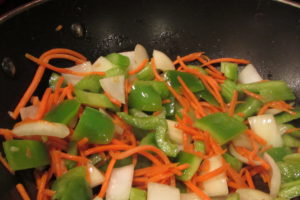 Remove the veggies to a plate.  Add more oil and cook the chicken 'til done.  Add the veggies back in with the water chestnuts and add a fresh dousing of the sauces we used when we made our marinade. I just add the soy, szechuan and teriyaki 'til it's saucy enough, the color looks right, and it tastes good to me.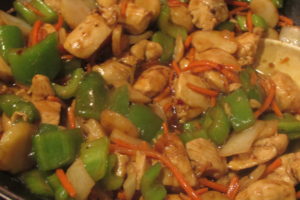 It's not super precise.  It's an individual thing!  Let that simmer 2-3 minutes.  Then you're ready to serve it up over some steamed rice.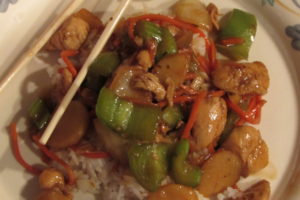 P.S.  This batch was extra spicy!  Just the way I like it...I'm on fire 🙂
Ingredients
1 pound chicken breasts or tenderloins, cut into bite-size pieces
1 large green or red bell pepper, cut into pieces
1/2 onion, cut into same size pieces as peppers
handful of carrots, either matchsticks or slices
2 stalks celery, sliced on the diagonal
small can sliced water chestnuts, drained
8 oz. sliced mushrooms
various sauces and oils:  szechuan, teriyaki, soy, sesame oil
rice wine vinegar, if marinating
vegetable or canola oil for cooking
Directions
Heat canola oil in large skillet or wok.  Add veggies except for mushrooms and cook until crisp tender.  Remove to a plate.  Add more oil to pan and cook chicken until done.  Add veggies back in with chicken and water chestnuts and mushrooms.  Add desired amounts of sauces to taste.  Simmer about 3-4 minutes to allow flavors to blend.  Serve over steamed rice.