This is an old recipe from Jimmy Dean.  It goes way back to my childhood…and maybe yours, too!  My mom would make a big batch of these at the holidays and keep them warm in the crock pot.  We'd snack on them as long as they lasted on the buffet.  My son shares a love for these yummy little cheesy sausage bites.  Long ago, I used to make a bunch of appetizers and host an appetizer party the night before Thanksgiving.

I use the basics of a recipe I saw in an ad for Jimmy Dean, but I have made some changes…which actually happened by accident when I miscalculated and measured incorrectly.  We liked the mistakes, so that's what we do!  I make these ahead of time and freeze them uncooked.  Just freeze them on a cookie sheet, then throw them in a resealable bag until the night before you need them.   I move the bag to the fridge the night before to thaw.  Then bake them according to directions the next morning.
Simple ingredients…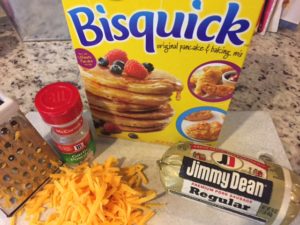 Knead all the ingredients together…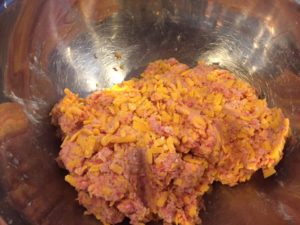 Roll into balls and place on parchment lined pan and place in the freezer…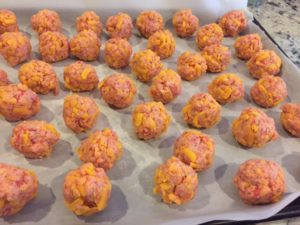 After they have frozen, place into a resealable bag and back into freezer until ready to thaw and cook…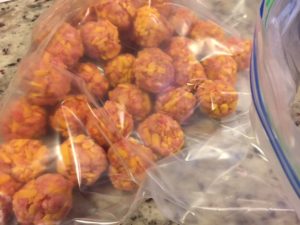 Ingredients
1 pound pork sausage
2 1/4 cups baking/biscuit mix
4 cups shredded cheddar cheese
1/2 tsp garlic powder
Directions
Pre-heat oven to 375.  Shred the cheese and mix all ingredients in a very large bowl.  I toss the cheese, baking mix and garlic powder together to evenly distribute, and then I add the sausage.  You will need to use your hands to dig in and knead the mixture so it sticks together.  It may seem like it will be too much to blend properly…but just keep at it.  It will come together!  Form into 1 inch balls.  I was able to get about 46 out of this.  You can always double if you're having a big party.  Place on a a parchment lined pan and freeze before dumping them into a bag and back into the freezer.  The night before you're planning on baking them, move to the fridge to thaw.  When you're ready to cook them, place on baking sheet and bake for 15 minutes, until golden and cooked all the way through.  I usually serve some kind of pepper jelly alongside the sausage balls for optional dipping.
Sign me up for the Country 103.7 email newsletter!
Members get exclusive insights into new music, music news, contests, quizzes, and more!
By clicking "Subscribe" I agree to the website's terms of Service and Privacy Policy. I understand I can unsubscribe at any time.