This recipe has been a Thanksgiving morning staple in our family for a number of years.  It's a Paula Deen creation that is amazing!  It makes a bunch, so it's perfect for taking to a party.  It's also a great brunch item if you're hosting.  And, it can be made ahead and frozen…so, it's a time saver, and you can just take out and thaw the amount you need.  It's so perfect!  My family adores them.  They taste like little glazed donuts…need I say more?!
Gather together…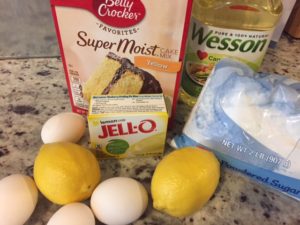 Blend together…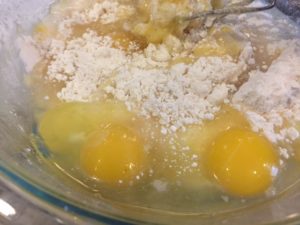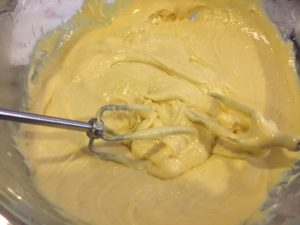 Spoon into mini muffin tins…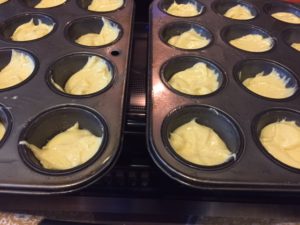 Make the glaze…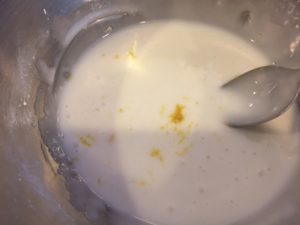 Dunk the tops…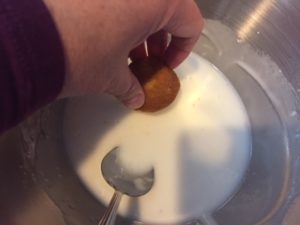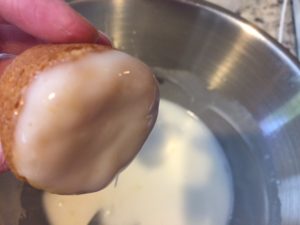 Allow to set up for a few minutes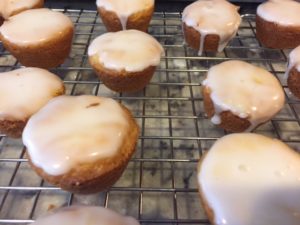 Remove to a parchment lined sheet to put in freezer…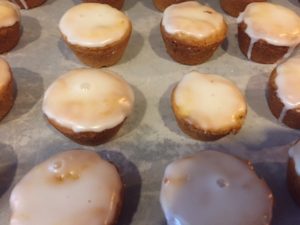 Ingredients
1 package yellow cake mix
3 1/2 ounce instant lemon pudding mix
4 large eggs
3/4 cup vegetable oil
Glaze
2 cups powdered sugar
slightly less than 1/3 cup fresh squeezed lemon juice (about 1 lemon)
1 lemon, zested
 1  T vegetable oil
 1 T water
Directions
Preheat oven to 350.  Spray mini muffin tins with cooking spray.  Combine the cake mix, pudding mix, eggs and oil.  Blend with electric mixer for about 2 minutes.  The mixture will be very thick and dough like.  Spoon a small amount into each muffin tin about 1/2 way full.  Bake for about 10-11 minutes.  Do not overbake.  Pop out and place on a wire rack with wax or parchment paper underneath to catch spills from glaze.  I altered the glaze proportions just a bit from the original because it made way more than I needed.  This makes pretty much just what you need with only a small amount left.  To mix the glaze, add lemon juice, zest, oil and water to powdered sugar in mixing bowl.  Blend with a spoon until smooth.   When blossoms have almost completely cooled, dunk the tops of them in and out of the glaze quickly, just to lightly coat them.  Then, place them glaze side up on the cooling rack to let the glaze set.  The glaze dries and becomes like a donut.  To freeze ahead, place them on a sheet in freezer until firm, then place in resealable bag and and freeze until needed.  Allow them to thaw in fridge the night before serving.  I am able to get 40 ish  blossoms from this recipe.
Sign me up for the Country 103.7 email newsletter!
Members get exclusive insights into new music, music news, contests, quizzes, and more!
By clicking "Subscribe" I agree to the website's terms of Service and Privacy Policy. I understand I can unsubscribe at any time.