I first made these when my son had a sleepover for his 11th birthday party.
I knew I would need something quick and easy that I could have ready the next morning when the thundering herd woke up focused on devouring the kitchen. Little did I know, they would just be going to bed when I woke up!  Nevertheless, I went ahead and made them, and when they finally woke up…I reheated them for "brunch."

I've also made them ahead of time and frozen them to take on weekend getaways when we'll have a beach condo or mountain rental with a kitchen.  They defrost and reheat beautifully, and the gang loves 'em.  I just throw the frozen bites into a plastic bag and put them in the fridge for a couple of hours to defrost.  The 16 oz pkg of sausage will make several dozen.  I usually don't need quite that many, so I either just save the extra cooked sausage for breakfast later…to add into gravy, breakfast tacos or casseroles.  Or, I only prepare about half the sausage roll and freeze the rest.  The pancake mix I used was a "just add water" mix.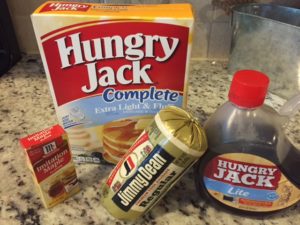 Gather the ingredients…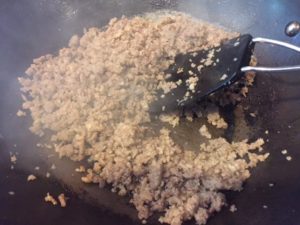 Brown the sausage…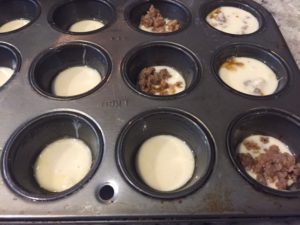 Fill your muffin tins…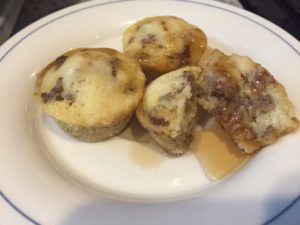 Watch them disappear!
Ingredients
16 oz pkg pork sausage
boxed pancake mix
2 tsp.  sugar
several drops maple extract
2 tsp. syrup
syrup for serving
Directions
Preheat oven to 350.  In a skillet, brown pork sausage until cooked through. Drain excess grease and set aside. Follow directions on your favorite pancake mix to make the batter. Add the sugar and a few drops of maple extract, and maple syrup in order to boost the flavor of the batter. Spray a mini muffin tin. Using a teaspoon, drop a small amount of batter in each cup. Top with a sprinkle of sausage. Spoon more batter on each to cover the sausage. Bake about 12 minutes or until batter is set. Serve with your favorite syrup for drizzling or dipping.
Sign me up for the Country 103.7 email newsletter!
Members get exclusive insights into new music, music news, contests, quizzes, and more!
By clicking "Subscribe" I agree to the website's terms of Service and Privacy Policy. I understand I can unsubscribe at any time.