Dishin' With Debbie-Rudolph Treats
From the time my son was probably 2 or 3 years old, I can remember making these treats every year to leave on the plate for Santa.  It's basically just graham crackers, pretzels, chocolate candy coating or chocolate chips and candies or chocolate morsels for eyes and a red hot candy for a nose!
You can get chocolate bark, so it's already brown.  I have done that, but I didn't want it that dark.  So I mix a little of the white chocolate with a few semi-sweet chocolate morsels for a light brown.  I first toasted coconut to a golden brown and pressed it into the chocolate coating to mimic his furry texture…and it was cute and tasty.  But, most kids, and some adults, don't like coconut.  So, I gave that up.  But feel free to add it if you like!
Simple ingredients.  I used to always just use chocolate chips for eyes, but alas, I had leftover eyeball candies from Halloween…found at Walmart!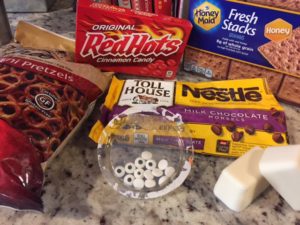 I melted 4 blocks of white almond bark and mixed in a couple of tablespoons of chocolate chips.  You can use a microwave or stovetop.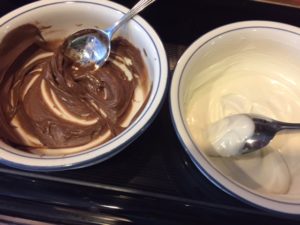 Mix to your desired shade of reindeer brown!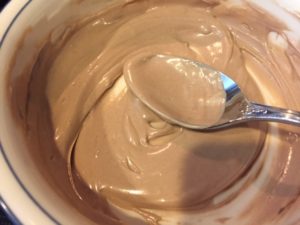 Take a square of graham cracker and dip the front of it in mixture to coat evenly.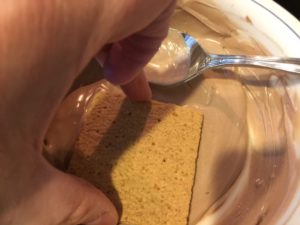 Place on wire rack over wax paper to catch any drips.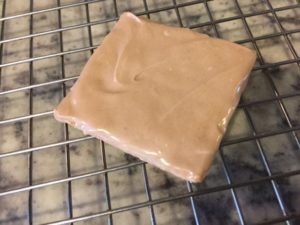 Take a pretzel and dunk the bottom portion into mixture and place on base in an "antler" position.  Repeat with second pretzel.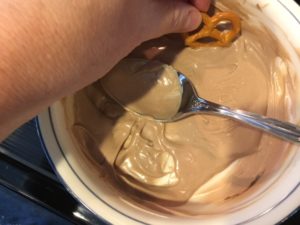 Add candies or chocolate chips for eyes and red hots for the nose of the most famous reindeer of all!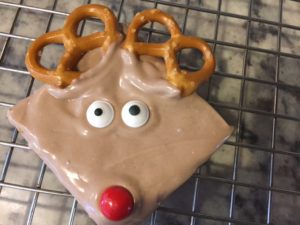 Ready for reindeer games!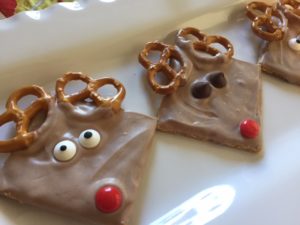 Ingredients
graham crackers
almond bark (both chocolate and white almond) or just use chocolate morsels mixed with white bark for the brown color (in demo I used 4 blocks of almond bark and a couple of tablespoons chocolate chips)
chocolate chips for eyes, or eye candies
red hots for the nose
pretzels for the antlers
Directions
Break the graham cracker sheets apart so you have squares.   Melt  some white almond bark in microwave or stovetop.  Instead of buying the chocolate bark, I just used chocolate chip morsels mixed into the melted white bark.   Lightly dip the front of each cracker in the mixture to make a smooth coating.  Set aside on wax paper.  Dip the bottom of two pretzels in the mixture and "glue" them on the top of the cracker that is turned diagonally.  Then place the chocolate chip or candy eyes on and the red hot nose.  Allow to dry.  They will become hardened in just about 10 minutes.  Repeat for as many as you like.  I was able to get about 16 treats from the amount used in the demo.